Dental Implants in Brunswick
---
Bellissimi Dental provides dental implants in Brunswick, OH. Call 330-741-3334 to learn more and schedule your appointment. 
When it comes to replacing missing teeth, dental implants are the best solution available. Only dental implants address tooth loss above and below the gum line, which means bone loss in the jaw can be prevented and even reversed. The result is a beautiful new smile, a strong bite, and a more youthful appearance.
Our team of doctors has specialized dental implant training, giving us the knowledge needed to create natural-looking restorations that are both comfortable and durable. We provide the following types of dental implant procedures:
---
Single Tooth Dental Implants
---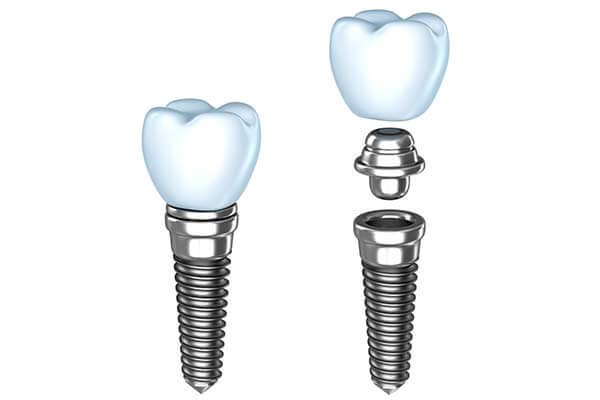 ---
As you might guess from the name, a single tooth dental implant replaces one tooth using a dental implant to replace the root, a crown for the portion of the tooth above the gum line, and a piece called an abutment to connect the two. 
---
Implant Supported Bridges
---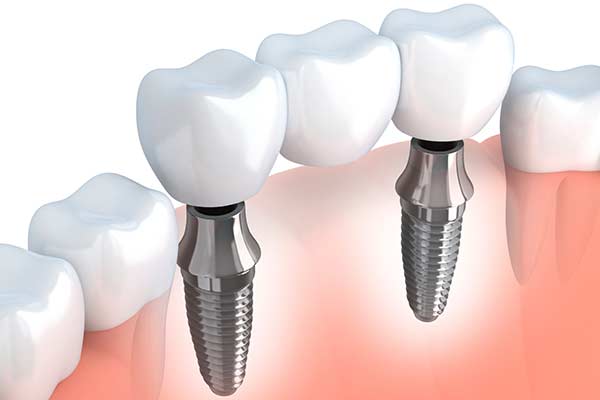 ---
We use implant-supported bridges when a number of adjacent teeth are missing. Dental implants replace the roots of the two outermost teeth in order to support a porcelain bridge.
---
Implant Supported Dentures
---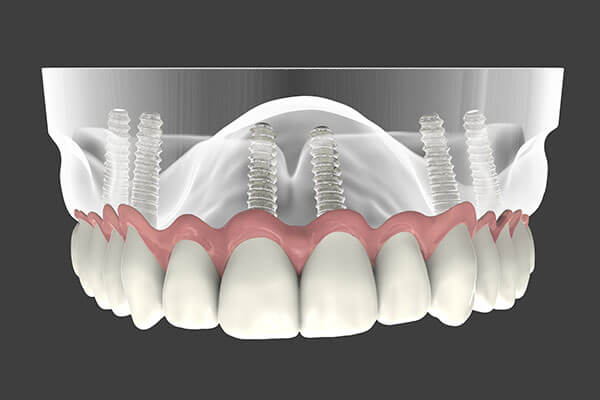 ---
When all or most of the teeth on one or both arches are missing, we can replace them with implant-supported dentures. These dentures can be full and partial; fixed or removable (also known as snap-on dentures). Patients who have had dentures in the past find implant-supported dentures much more comfortable and convenient because they don't shift, irritate the soft tissues, or require denture adhesives to stay in place.
---
Full Arch with Only Four Implants
---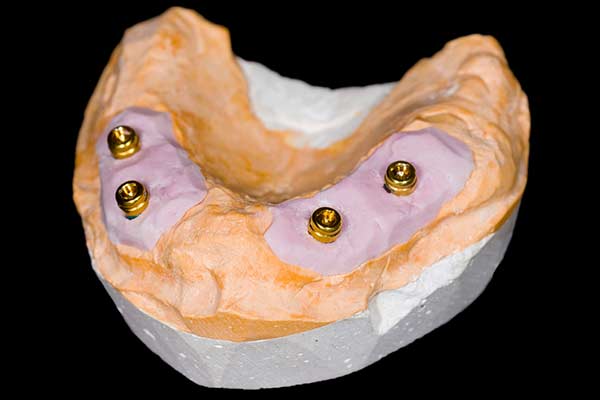 ---
This unique dental implant solution replaces an entire upper or lower arch of teeth using only four implants for support. Patients who are not candidates for traditional implant-supported dentures may be able to have this type of restoration instead.
---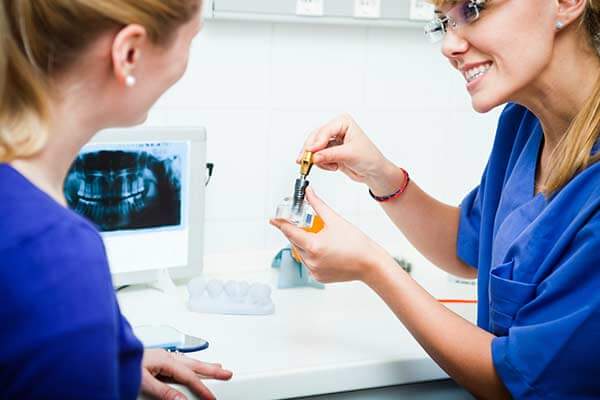 ---
Our office uses advanced technology to plan your dental implant surgery, which increases the accuracy, safety, efficiency, and predictability of the procedure.
---
Guided Implant Placement
---
Using CBCT scans, virtual treatment planning, and highly specialized training, we are able to provide guided implant placement for our patients. 
Using a virtual 3-D model or a physical model, implant placements and the following restorative work can be simulated to create the ideal patient treatment plan. These virtual plans allow the doctor to take multiple aspects of implant placement and restoration into consideration, resulting in optimal aesthetics, function, and longevity for the patient's final restoration. Working with a 3-D model also allows the patient to better understand the procedures and visualize the end result.
---
Benefits of Guided Implant Placement
---
Dental implants themselves come with many advantages, but guided implant placement comes with even more, including: 
Shorter surgery time 

Perfect placement for both appearance and functionality

Risks are minimized because the 3D structure has already been examined

The ideal placement for longevity
Plus, for those patients who currently have dental implants, guided placement allows the dentist to see the existing ones so that the new implants are placed in the proper position/location. 
---
Why Bellissimi Dental?
---
When it comes to your dental implant needs, you can't settle. You need a dental team that moves with precision and skill to give you the most perfectly placed dental implants. And that is what we have to offer. Using an advanced guided implant placement, you get the greatest reward.
---
Frequently Asked Questions About Dental Implants
---
How long do dental implants last?
---
Once your dental implants and jawbone fuse together through a process called osseointegration, your dental implants are meant to last a lifetime just like the roots of your teeth. You may need to replace the restorations attached to your implants at some point, but it's very rare that the implants themselves would need replacement.
Do dental implants look natural?
---
When your dental implants are designed by a skilled doctor, you can feel confident that they'll look natural. We never take a cookie-cutter approach to dental implants—instead, we design restorations that match the rest of your smile and your facial proportions.
How can I get new teeth in one day?
---
The Full Arch with Only Four Implants procedure can often be done in a single visit.
Can you get a dental implant years after extraction?
---
Absolutely! Many of our patients decide to get dental implants years or even decades after having teeth extracted. You may need to have supplementary procedures like bone grafting or a sinus lift prior to implant surgery, depending on our findings during your consultation.
Are dental implants worth it?
---
Yes, dental implants are worth it. You'll feel more confident, your overall oral health will improve, and you'll have a beautiful smile that looks natural and feels like your own.
Is guided implant placement accurate and reliable?
---
Yes. When compared with regular implant surgery, guided implant placement is much more accurate and reliable.
How does a CBCT scan work?
---
This non-invasive scan provides dentists with a single reconstructed 3D image that is created as the machine moves around the patient taking about 150-200 images in less than a minute.
Is a CBCT scan safe?
---
Yes. This machine uses much less radiation than the medical CT scan and has been deemed safe by the American Dental Association and the FDA.
How can I prepare for a CBCT scan?
---
There is not much to do to prepare for the CBCT scan. Simply note that you will have to remove any metal or jewelry that may impact the imaging.
How long do dental implants last?
---
The dental implants themselves are designed to last a lifetime. They are surgically implanted into the bone and left to fuse together. However, the artificial tooth - a dental crown - that is attached to the implant lasts about 10 to 15 years on average. Though, for those who take exceptional care, the crown may last upwards of 20 years.