Implant Supported Dentures
---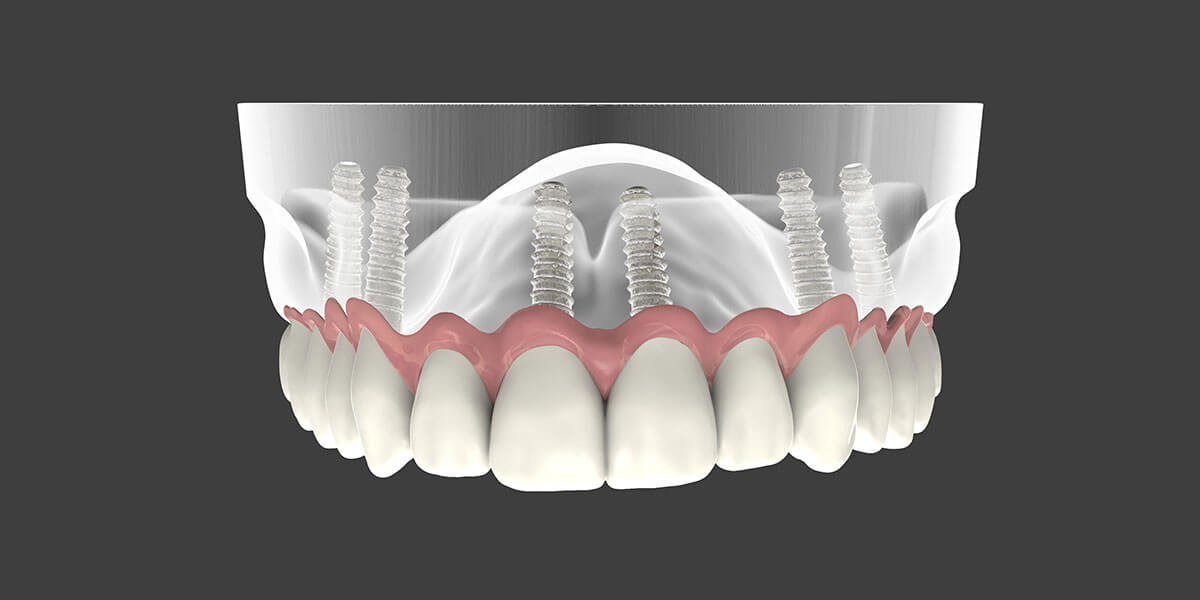 ---
---
What Are Implant Supported Dentures?
---
Implant supported dentures are like traditional dentures, but they are supported by dental implants. A dental implant is a titanium post that is surgically placed in the jaw. Multiple implants can support a full set of dentures, acting as anchors to hold them in place. Implant supported dentures are more secure and in many ways more comfortable than traditional dentures. The dentures can be fixed to the implants or removable.
Benefits of Implant Supported Dentures
---
Implant supported dentures have many advantages over traditional dentures: 
Secure.

Implant supported dentures attach to four or more implants that anchor them securely in place. They provide a more secure hold than traditional dentures that rely on adhesives and suction to attach. 
Comfortable.

Because they stay securely in place, they are more comfortable than traditional dentures. They don't pinch or chafe your gums from slipping around. 
Support jaw bone health.

Dental implants preserve the bone in your jaw, keeping it from weakening due to the absence of natural teeth. 
Natural look. Implant supported dentures look natural because they are less bulky than traditional dentures and they stay put when you eat and talk.
Are You a Good Candidate for Implant Supported Dentures?
---
If you need all of your teeth replaced in either the upper or lower jaw, you may be a good candidate for implant supported dentures. When you don't have any healthy teeth remaining to act as anchors for partial dentures, implant supported dentures are the next best option. If your teeth have been missing for a while, your jawbone may have weakened and shrunken down somewhat, making it unable to support dental implants. In this case a bone graft procedure may be recommended to fortify the jawbone and encourage regeneration. If this is successful, your jaw will be ready to receive implants in a few months.
Why Choose Bellissimi Dental?
---
Not every dentist offers implant supported dentures. You need a dentist who is skilled in the placement of dental implants, as they are the anchors for your dentures and need to be accurately placed. The doctors at Bellissimi Dental have the training and experience necessary to successfully place your dental implants in the right location, angle, and depth to provide support for a full set of dentures. We have fitted countless satisfied patients with implant supported dentures over the years and we can do the same for you.
---
Frequently Asked Questions
---
What's the difference between fixed and removable dentures?
---
Fixed implant supported dentures are permanently attached to the implants, only to be removed by your dentist. Removable dentures snap onto the implants and you can take them out yourself at any time, such as at night for cleaning.
How many dental implants will I need for dentures?
---
Implant supported dentures can be attached to either 4 or 6 dental implants. All-on-4 is the name for implant supported dentures that are anchored by just 4 implants. This type is fixed rather than removable. Implant supported dentures are typically supported by 6 dental implants and offer either a fixed or removable option.
How much do implant supported dentures cost?
---
The cost of implant supported dentures varies greatly depending on a variety of factors. They do cost more than traditional dentures, but the quality is significantly higher and they last longer. To get an accurate estimate, you'll need to schedule an evaluation and consultation.
Are implant supported dentures covered by insurance?
---
Dental insurance doesn't typically cover dental implants, but part of your implant supported dentures may be covered. Contact your insurance provider to inquire about the specific coverage under your plan.